Our job as creators is to be daring and authentic. When you open your mind, you open new doors to new possibilities and opportunities for yourself and others. 
GET YOUR BIDS IN NOW!
This month's auction features several of Linda's clay monoprints. Although we are sad to see them go, we must make room for new creations. You can only get them here at the auction. They are no longer available in any collection.
AUCTION
WE WILL RETURN TO REGULAR HOURS ON SATURDAY, SEPT. 6
In August 2023, a home came on the market with 1,000 square feet of garage space that could be converted into two studios. Home Studios!! We couldn't pass that up.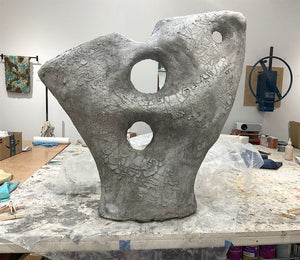 In the desert, summer slows activity down to a crawl. It gives us time to work on ideas that we couldn't get to during the busy season.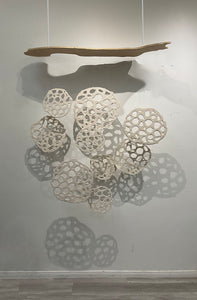 This work in progress is the start of an exciting collaboration between the two of us that integrates wood and ceramics with shadows and movement to give each creation an energy...